By Ajay Chaudhary, UX Designer at Akoya
One of the core components of product design at Akoya is customer-centricity, an approach that places customer needs and pain points at the epicenter of the design process.
Strong design is critical in financial services, as it directly impacts the level of trust and confidence a customer has in a product and/or service. Customers seek products that are easy to use and provide an elevated level of security and privacy, especially when it comes to financial services. Product designers must consider all levels of financial technology literacy to design products that are usable across a spectrum of customer backgrounds.
In today's digital world, product design and user experience (UX) go hand in hand to deliver successful products that align with customer's goals and desires. Product design aims to develop products that are functional, easy to use, and aesthetically pleasing, while UX encompasses the overall customer experience while interacting with a product. The Akoya design team fuses product design and UX to create visually appealing, easy-to-use products, resulting in positive customer experiences and increased loyalty.
Drawing from my personal experience as a UX researcher and designer, I have witnessed instances where products were designed without active involvement from the target audience, resulting in products that failed to meet customer needs. Customer-centric design is vital in creating designs that bring customer satisfaction; to certify that a product truly caters to a customer's needs, active participation rather than guesswork is necessary.
Akoya's product design process is all about the customer
Akoya's design philosophy begins and ends with the customer. Understanding customer needs and pain points is the foundation upon which we craft product user journeys. We gather insights from our customers and capture their sentiments throughout various stages of the product experience to ensure every objective is met.
All our design projects begin with an initial round of comprehensive UX research to understand the needs of the customer. We employ multiple methods of gathering customer research, e.g., direct one-on-one interviews, surveys, and recurring feedback sessions with customer success team members working closely with the end customers.
Based on the information gathered, our product teams create requirements documentation, serving as the sole source of truth between the product and design teams going forward.
Utilizing the requirements documentation, our design team conducts UX card sorting exercises to align with the documented requirements and generate a comprehensive list of features. This process differentiates between those features selected for the minimum viable product (MVP) and those bound for future iterations.
After ironing out the MVP version, the design team works on creating user journeys that encompass every step customers must take to successfully accomplish any task. While creating these journeys, the team accounts for multiple unsuccessful paths that may arise from the journeys, proactively planning for potential errors or invalid entries.
Next, we move into the exciting part of "sketching" or "low fidelity wireframing," where the entire journey is visualized in black and white. These visualizations facilitate internal reviews within our organization before progressing to high fidelity designs and prototypes. Iterating on these wireframes promotes effective collaboration across multiple teams, avoiding the need for visual design or engineering resources to create prototypes.
Following internal review, we are ready to develop fully interactive prototypes created by our visual design team in Figma. Once complete, our designs undergo validation and finalization of copy across all screens by the technical writers before being handed over to the engineering team for development.
Sample user journey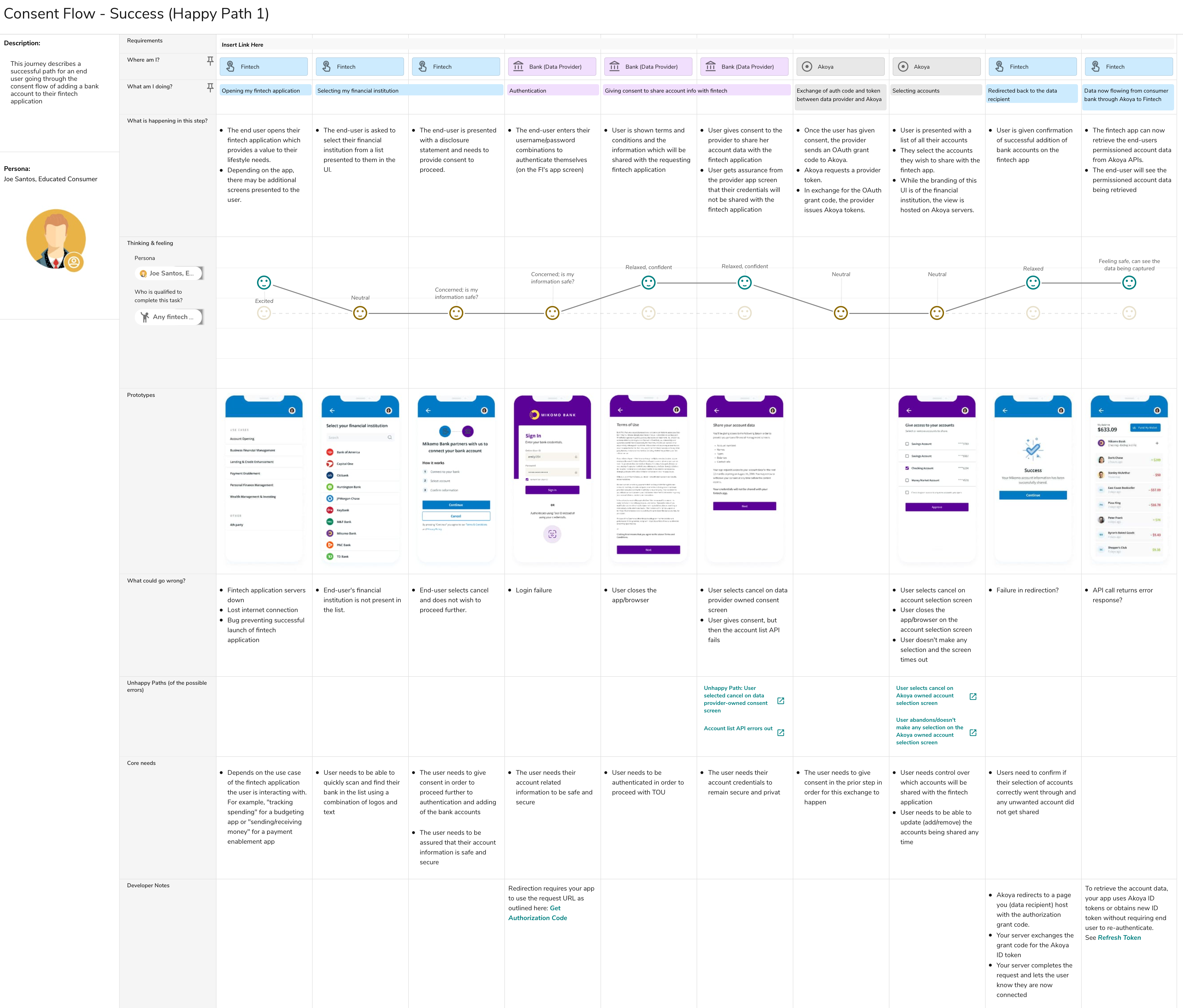 Enhancing design through iteration, collaboration, and adaptation
At Akoya, we believe that effective design stems from a concrete understanding of customer needs and pain points, leading to the continuous improvement of our design process. Iterative customer research and feedback have notably enhanced our accessibility standards, considering numerous factors like contrast ratios, font sizes, and color combinations for different vision types. Conducting regular accessibility audits ensures an inclusive customer experience throughout.
Akoya embraces collaborative design sprints, partnering with teams across our organization to make sure that designs are feasible and in alignment with the vision of all key stakeholders. Agile methodologies, like Kanban, enable our team to adapt our designs to changing customer needs and expectations. Our design process is highly iterative, recognizing that design is an ongoing process rather than a one-time event.
By adopting a customer-centric approach to product design and UX, Akoya prioritizes the creation of tailored products that meet the needs and preferences of our customers.
To learn more about our design approach, check out our blog post on How we Balance Pace and Quality in Design, or contact us here.